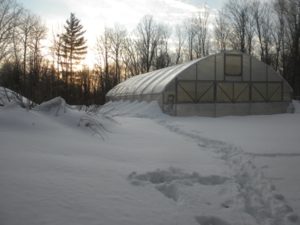 Spring planting in the greenhouse all depends on the weather.  The air and soil temperature inside the greenhouse is much more important than the date. Some years Ken had planted in February, but this year we had early cold with no snow cover, so the frost went deep into the soil.  We have also had more cloudy than sunny weather, so there has not been much solar gain once the sun has some real heat starting in early February.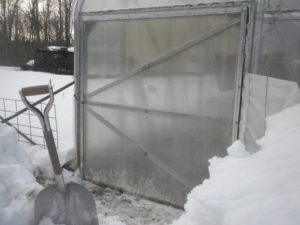 With the advent of mud I started wondering how the greenhouse was faring.  So,  I trudged through deep slushy snow down to check with Oscar the faithful dog bounded behind me.  I brought a shovel to clear the heavy wet snow that had come down from the roof and side.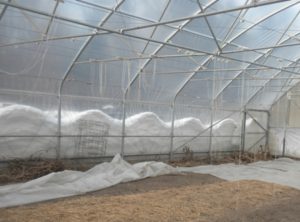 Once inside I removed plastic and the temps are getting close enough to monitor.  Soon we can plant!