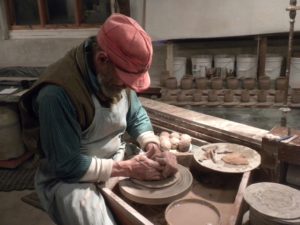 Ken started making pottery in high school art class.  While at Bemidji State University, he held the studio assistant position.  In exchange for a key to the studio, he mixed clay, glazes, fired pottery, and sometimes helped other students succeed.  After finishing school he worked, saved money, bought wooded acreage and set up his studio.
He built his first wood kiln in 1978, and has built two successive kilns for his use.  He has assisted friends and colleagues in building kilns in this country and Japan.
Ken throws his pots on a Leach treadle wheel.  He has formulated glazes from ashes derived from his crops and local rock powders for decades.  Recently he has found clay on his acreage and is completing tests on it.  He fires his pottery with wood selectively harvested on our property to improve the forest.  His pots reflect the care and connection to each facet of their creation.
The shapes and sizes of functional pieces reflect Ken's experience as a professional cook and personal chef, love of food; his sculptural works show his connection to gardens and wild places.
Ken died at home December 19, 2017