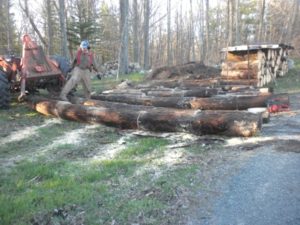 Last year Ken cleaned up some older logs on the driveway; since he had not gotten the sawmill up and running the wood had gotten old.  Now it was no longer lumber grade – only good to burn.  He cut the logs in lengths that could be split for the side stoke holes on the pottery kiln – 40 – 42."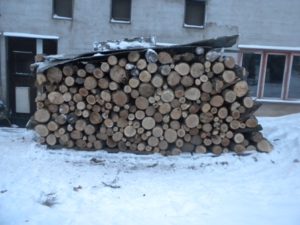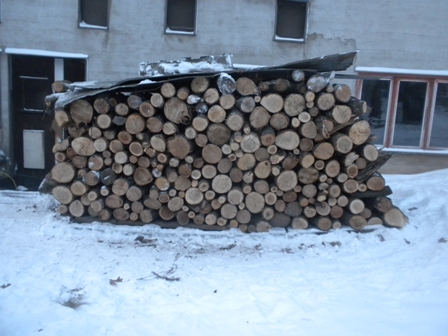 Then the splitter was giving him trouble.  And his health was also giving him trouble.  He never got back to it.  Friends brought me some wood last winter and I did not have to cut or buy any.  This spring was snowy and wet.  I waited.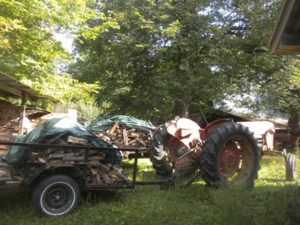 Once we got some cool weather a friend from River Falls came by when he was in the area and bucked up a pile of long thin kiln wood to length for the cook stove.  Thank you, Ryan.
Then Roger and Kathy came.  First we split the longer wood by the back door.  This will go in the bigger stove when the temperatures drop below zero. Sunday David Appel stacked the longer wood by the back door.  Once done he spelled me and helped Kathy and Roger wherever help was needed.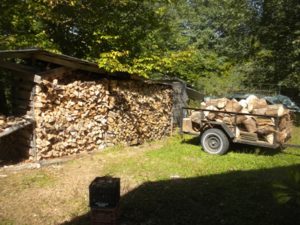 Then Roger cut all the long wood on the drive to length and Kathy split several trailers worth while I stacked.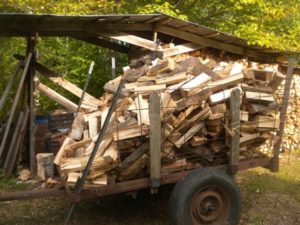 Then the next day Bentley came and got our – my splitter working and we split another load.
We loaded the last of the wood from the driveway.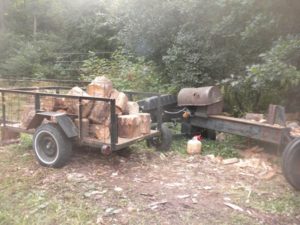 Now there is one smaller load left to split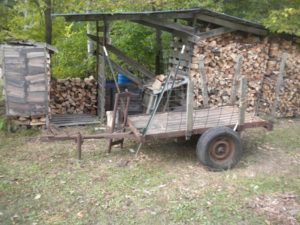 Monday I stacked the load Bentley and I split Sunday
I put that wood with the softer punky wood on the south end.  I will burn the soft stuff early in the season when I am drying out the house and taking the chill off rather than when I am trying to heat the house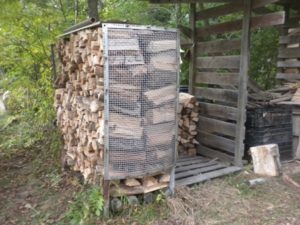 So this will get burned first.  And I can fill it once burned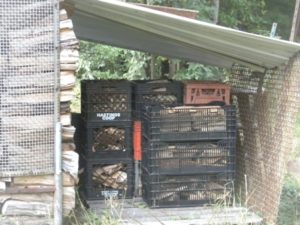 Finally yesterday I raked and picked up small pieces for kindling; if I had left them they would just cover and kill the grass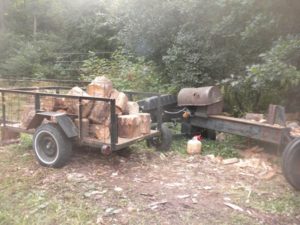 What remains to be done?
That small trailer needs to be split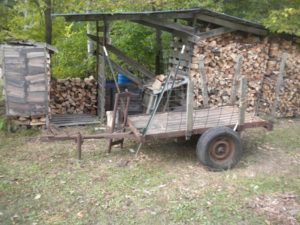 I have this space in the racks left to fill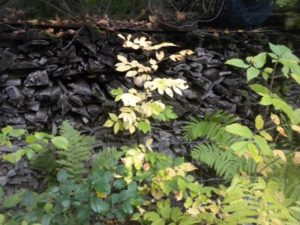 I want to cut some of these piles to length – one of slab wood on the way to the field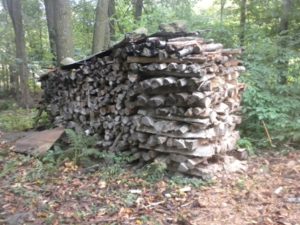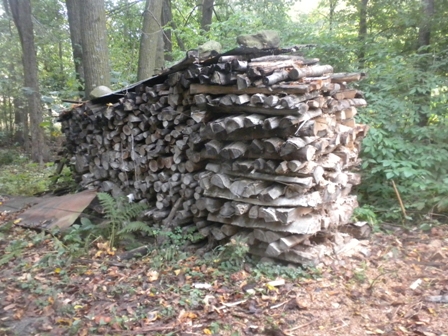 and another by the back door.
Thank you to ALL who have helped and all who will help!