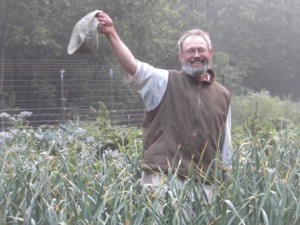 Ken Keppers Obituary
Ken Keppers died December 19, 2017.  After scans in July indicated cancer, he sought alternative health care.  He died as he wished – at home.
Born November 15, 1952 in St. Paul to parents Ralph and Patricia (Billy) Keppers, Ken grew up in White Bear Lake and Shoreview, Minnesota, and attended St. John's and St. Odilia's Elementary schools and Totino – Grace High School.  He graduated from Bemidji State University with a B.S. in art.
In 1976 Ken purchased land in Turtle Lake, Wisconsin.  There he built a home, pottery studio, wood kiln, and garden.  In 1990 he met Judith Gravel while folk dancing; they married in 1993.  Ken and Judith went to Miharu, Japan through Rice Lake's sister city program.  Upon return home they added market gardening to their pottery business.  Ken believed and practiced biodynamic, permaculture, and organic farming methods.  He made pottery from local clay, mixed his own glazes, and cut wood from his property to fire pots.
Ken had many interests and skills: pottery, farming, wood cutting, sawing lumber, construction, wood working, cooking, baking, blacksmithing,  bee keeping, growing mushrooms, making maple syrup, draft horses, hand drumming, music, and folk dancing.
Ken leaves behind his parents Ralph and Pat Keppers, sisters Debbie (Tony) Sanders, MaryLynn Riesch, Kathy (Pat) Kelly, Paula Gallagher, Anna Lund, his brother Andy Keppers, several nieces, and nephews, aunts and uncles, cousins and his wife Judith.
Ken's wish was that memorials go to Cornucopia Institute of Cornucopia, Wisconsin.  A service and celebration is being planned for spring.