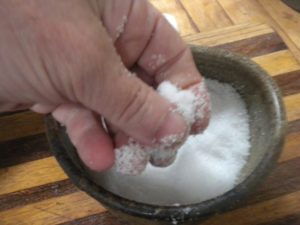 Most years we have a lettuce gap during the heat of the summer.  During this brief time I focus on the many other salad options. For a cucumber salad we have found that a combination using small seeded cucumbers, breaking the skin and salting results in "burpless" digestible side dish.  Asians often salt sliced vegetables to alter the green flavor of chlorophyll and enhance the vegetables' sweetness.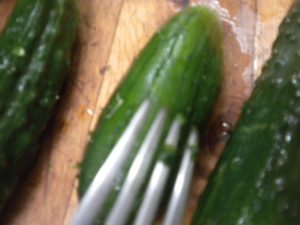 First I take rinsed cucumbers and run a fork along the skin.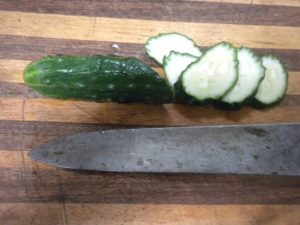 Then I slice – Ken prefers thinner slices.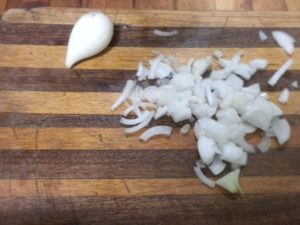 We like some sliced Walla Walla onion, too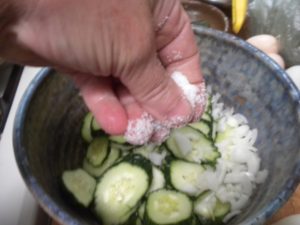 Next I add salt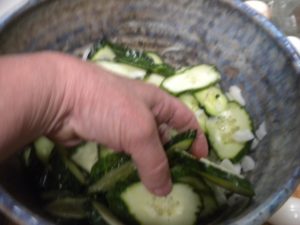 Then I simply mix with my hands to evenly distribute the salt. This is common practise in Asia rather than cooking vegetables.  Set Aside for about a half hour, drain, (rinse if salt is an issue for you) and then add dressing
I usually either do a creamy dressing of yogurt, vinegar, a bit of something sweet like honey or maple syrup, and some pepper.  My second favorite is an Asian dressing of sesame oil, a bit of toasted sesame oil, mild vinegar, a bit of sweet, hot pepper, and toasted sesame seeds.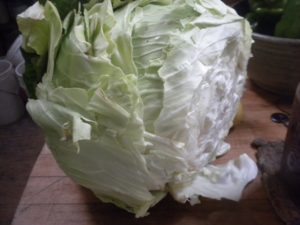 For slaw I use cabbage – in this case one that cracked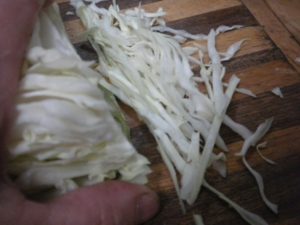 Slice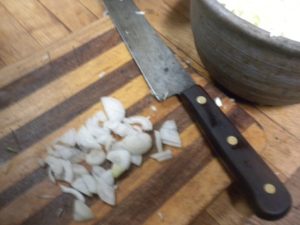 Add onion if desired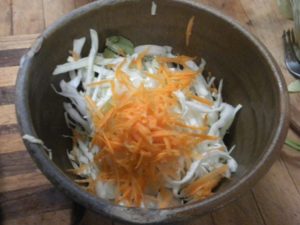 Grated carrot is a nice flavor and color addition.
Salt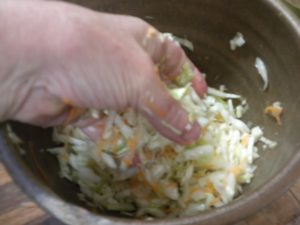 Mix and set aside.  Drain, Add dressing.  If I have sour cream or mayo, I may use that in the above creamy dressing with or in place of the yogurt.