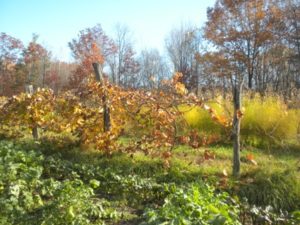 Greetings from the Garden!  This week's CSA box has the last of the summer tomatoes, peppers, onions or leeks, garlic, sweet potatoes, winter squash, potatoes, salad and braising greens, radishes, and parsley.
Field Notes.  Monday morning Ken made a wooden box trap for voles.  Voles can move into a green house and wipe out an entire crop.  Think of it – a warm place to live and a salad bar to boot!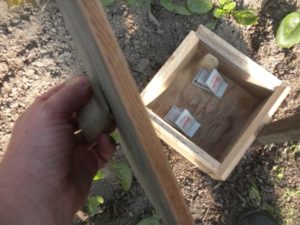 A well know organic grower from Maine,  Eliot Coleman swears by a box with holes and traps from Rice Lake inside.  Last year we lost a lot of fall greens so I went back and checked it out , ordered the traps and tried a cardboard box before Ken went to work on making them out of wood. Work it did!
 Ken was transplanting greens in the mobile high tunnel Sunday evening.   He plants something all year around – in winter he is continually planting micro greens.  The fall greens are beautiful and with the cool weather the braising greens are so mild I put them in salad!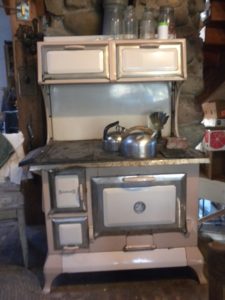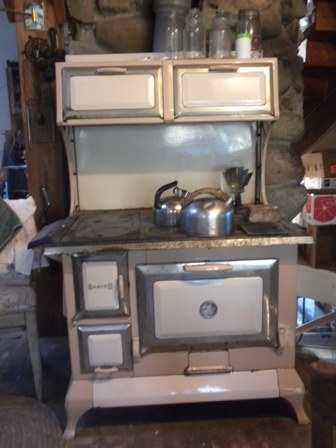 From the Kitchen.  Today marked the change of seasons for me – I lit the cook stove for breakfast; nothing beats that radiant heat. Soon we will be putting rolled oats on to soak for quick cooking oatmeal for breakfast.  Eggs have a season and production drops with short days and cold temperatures.  In spring when eggs are plentiful, I scramble and freeze some for the dark days – often called the Persephone period – from mid – November to early February.
Saturday I brought a soup and salad to a friend's work crew – we had too much to do here, but we could show up with food to feed the workers.  Soup recipe: cut out the cores and blemishes from some tomatoes, brought to a boil, ran through the food mill.  Meanwhile I sauteed leeks and celery.  Added carrots, rutabagas, to the onion and tomato sauce.  Sauteed  some bell pepper slices to add later (I like them cooked, but not overcooked). And I had some cooked potatoes to  add just before serving.  Once the carrots and 'bagas were cooked, I added thyme and savory and salt and pepper to taste.  Once All was combined, I divided into 1/3 and 2/3 of the batch and added cooked chicken meat and chicken stock to the larger batch.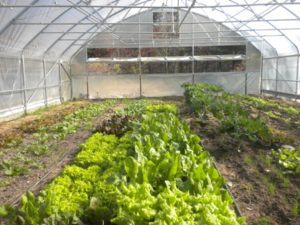 For salad Saturday we had all the following in the mix: lettuce, endive, chicory, tatsoi, Tokyo bekana, radicchio, mustard cut into ribbons, and served with a vinaigrette salad dressing.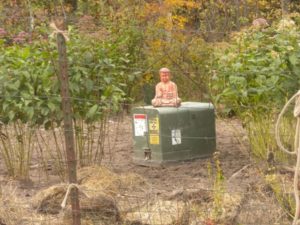 'Til Next Week, Judith and the Gang