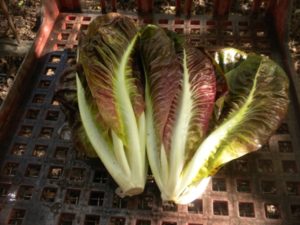 This week we have two less common items available – radicchio and hakurei turnips.
We grow a Treviso type of radicchio.  It looks like a white spined red Romaine, but it ISN'T lettuce.  It is an Italian green with a stronger, slightly bitter green flavor.  I tend to roll leaves and cut in thin ribbons to add to salad as an accent.  I saute it with onions.  Some people grill it.  We had some delicious hors d'oeurves; the base was a radicchio leaf with pesto mozzarella and chopped tomato – delicious!  We welcome your suggestions.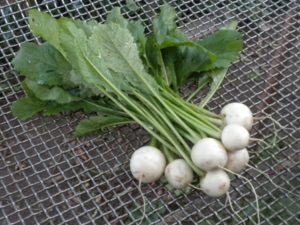 Hakurei are Japanese turnips.  The smaller white round roots are milder than purple top turnips.  The Japanese slice thinly and salt for about a half hour to alter the chlorophyll- it sweetens the turnips.  If salt is an issue, just rinse before serving.  They can be cooked like regular purple top turnips; just reduce the cooking time.  The greens have even more nutrition than the roots and are great as a salad accent like the radicchio or wilted by adding them to clear broth soups or in braising mixes.  Enjoy!