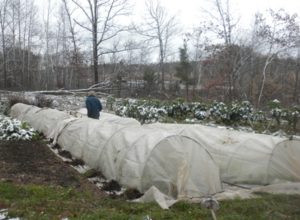 Greetings from the Garden! This week's CSA box has salad mix, braising mix, stuffing tomatoes, peppers, carrots, beets, winter squash, salad turnips, onions, garlic, and herbs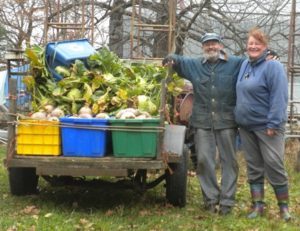 Field Notes.  The "Big Dig" as I call it is well upon us.  Spring and fall are the busiest times for a farm.  In spring it is planting and in fall it is harvest.  This year we have some help.  Last Tuesday it was beets, carrots, and celery root.  Thursday it was kohlrabi, rutabagas, and winter cabbage.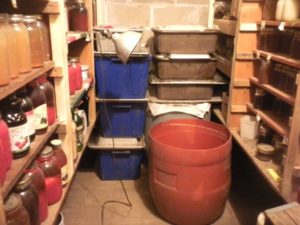 Sunday and Monday I got roots buried in sand in the root cellar: celery root, carrots, and beets.  Next it will be the kohlrabi, rutabagas, and cabbage.  We are still harvesting from the field.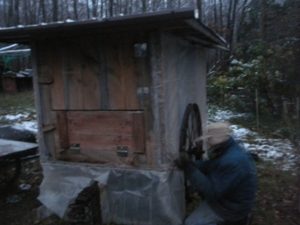 Saturday Ken and I did some "winterizing" of fall crops – we put up hoopettes in the garden over greens, and got the curing onions and winter squash insulated against cold. Once it gets really cold we will move onions and squash inside our main building.  And got plastic over the screen portions of the portable chicken coops.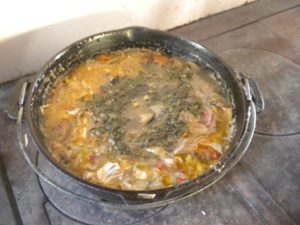 From the Kitchen.  Both Ken and I have been making soups.  Ken has made a beef onion, and a squash, and I made a chicken vegetable.  When we are working outside on these cool damp days, one of comes in and heats up soup.  It is a great way to use up culled vegetables we don't send out – a friend calls them farmer food. 
Stuffing tomatoes are an Italian variety of tomatoes with an empty center like bell peppers.  We often halve them and fill with cream cheese or rice.  Experiment and enjoy!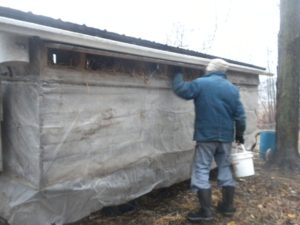 'Til November 15th, Judith and the Gang!