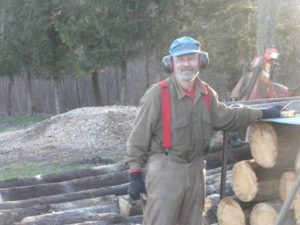 Greetings from the Garden!  This week's box has greens – lettuce, salad mix, spinach, wild mustard, green onions, chives, potatoes, celery root, beets, and herbs.
Field Notes.  Ken has been planting and transplanting:  his nursery inside the mobile high tunnel, his pepper and tomato plants in the germination cabinet, and the onion seedlings.  He has also been cleaning up the greenhouse in the field; perennial crops have perennial weeds.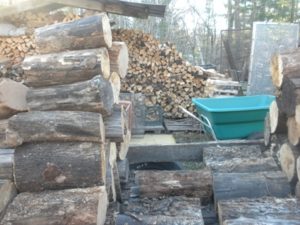 And to avoid any possible boredom, Ken has been clearing up some old wood and some new wood.  We have gotten to that point when hard decisions are necessary – trees or sunlight in the garden!  Ken cut down trees on the south side of the garden and now is cutting them up.  I help once the pieces come to the yard and he splits them – I stack.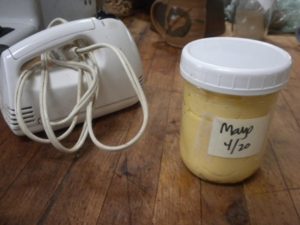 From the Kitchen.  Last Thursday after harvest I spent some time in the kitchen.  I make mayonnaise from our eggs and oil – sometimes I use olive oil, sunflower or sesame or walnut are all nice for a nutty taste.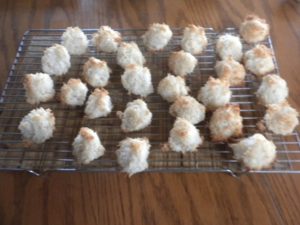 Then I make macaroons with the egg whites.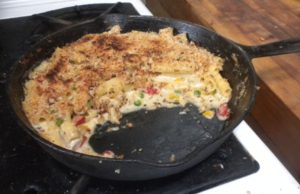 Ken asked for some mac and cheese, so I sauteed onion in the sauce, and added frozen peas and frozen  diced ripe bell peppers.  With a side salad – lunch!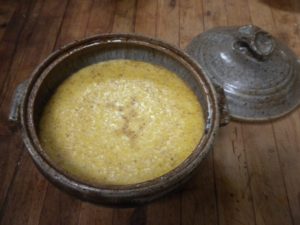 For dessert, custard.  Yes, it is egg season!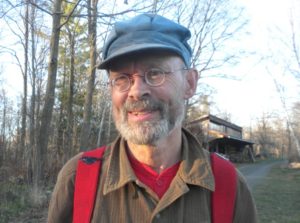 'Til Next Week, Judith and the Gang –