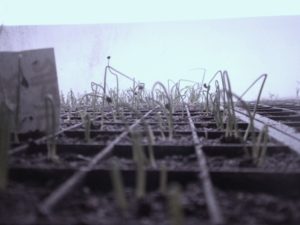 Greetings from the Garden!  This CSA box has squash, onions, garlic, beets, carrots, potatoes, braising and salad greens, spinach.
Field Notes.  Transition time is here!  Ken has planted the first full season crop – onions and celery and celery root.  This starts the succession of plantings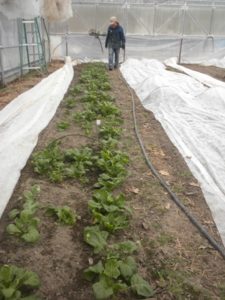 Meanwhile in the greenhouse we have spinach, some lettuce, turnip greens and chicory.  Time to wrap up making pots and head outside!
From the Kitchen.  Here too, we are in transition from stored food to fresh.  This is the time of year I like to cook squash kinpira.  Just check the blog for the prior how to.  I also am pulling things from freezer for variety like some asparagus for cream of asparagus soup and peas to go with carrots.
Then there is spinach!  We eat it raw in salads and cooked with vinegar or cream depending on what else is on the plate.  With a zesty red sauce on pasta, cream, with a creamy chowder, vinegar.  And I haven't gotten to quiche or souffle yet!  I did make spinach omelettes – our version of green eggs. Eggs and spinach are a great combo.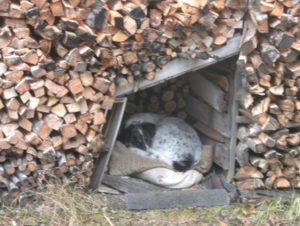 'Til April 5th, Judith and the gang