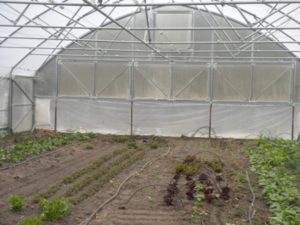 Greetings from the Garden!  This CSA box has fresh greens – braising and salad, parsnips, gobo, beets, carrots, onions, and fresh herb.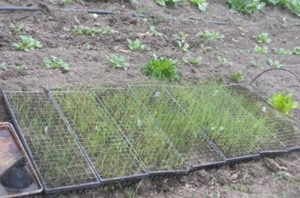 Field Notes.  Pepper plants are looking good.  Tomatoes have been planted.  Onion seedlings are hardening off in the greenhouse.  Ken set up a hoopette for early roots and has planted peas.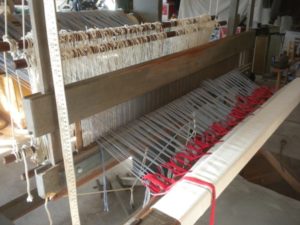 I am trying to get my loom warped before I move out doors.  I start cleaning and pricing pottery this weekend. MARK YOUR CALENDARS!  Our spring opener event is Saturday May 6th and Sunday May 7th.  WE will have pottery, produce and this year we are hosting Joyce Halvorson, a blacksmith from Barron.  Many people come and self tour and walk the paths to fields and greenhouses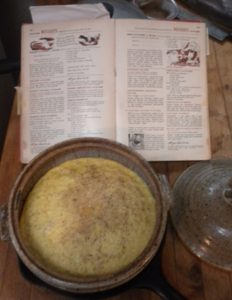 From the Kitchen. Eggs!  As we approach Easter we are in egg season full swing.  Egg season often starts with spinach omelettes, then Ken makes me a birthday souffle.Once we have goose eggs I am thinking puddings.  Today I made rice pudding from some leftover rice.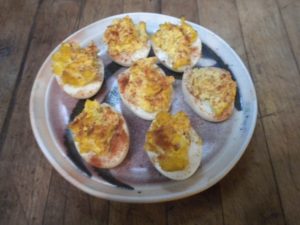 And as the invitations start I make deviled eggs.  I have tried several recipes, but I like Martha Stewart's best.  Of course I substitute as necessary.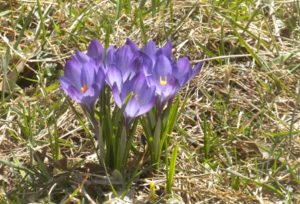 Happy Easter, Passover, and Spring – 'Til Next Week, Judith and the Gang