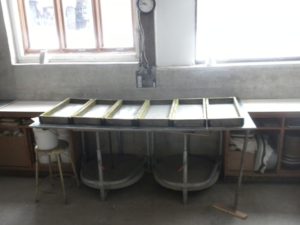 Ken processes clay found on our land .  First he dries the clay completely and then works the clay  into a slip about the consistency of cream or yogurt, then he screens it for impurities and next he has to dry the slip to clay.  He has been leaving open buckets to dry, but he repurposed some screens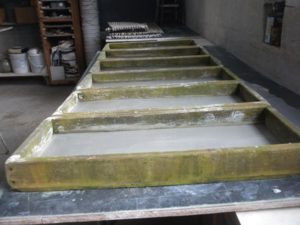 These were sprouting racks for grain for the livestock.  He has some newer, improved screens, and these were waiting for a new life.   Ken placed plastic down on a table and mixed and poured concrete into the screens.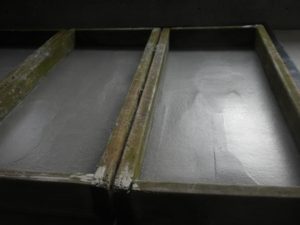 Once they dry he will smooth off any burrs or "dingleberries" as he calls them and then he can fill the screens with slip to let the dry concrete pull moisture from the wet clay.  I should go a lot faster than the current bucket method.
Great job, Ken!