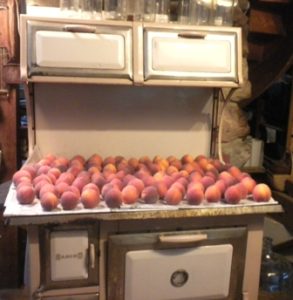 Ken loves stone fruit like peaches, apricots, cherries, nectarines.  They are always on the Environmental Working Groups "Dirty Dozen" list for chemical pesticide residues, so we avoid any thing that is not organically grown.  this year while visiting some friends I was able to get a box of organic peaches.  And our host who knows Ken loves peaches offered a second box.  I came home and set them on the cook stove to watch for ripeness and any bruising.
Then Ken made the first ripe ones into a shortcake dessert.  And next I canned two batches that will be Ken's snack in the field.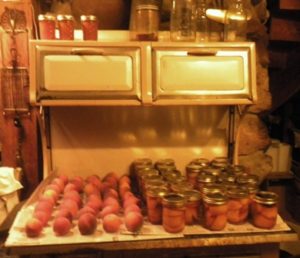 Once a few more ripened I tried my first batch of peach jam.  Ken said it was good.
Then a couple mornings of peaches, honey and yogurt.  Just a few left – maybe another batch of jam