What is the CSA?
A prepaid CSA membership gives you a box of food with the produce that is available that week: you get the first priority on crops.
You choose your which of our forty harvest dates you want and pickup location when you subscribe; the St Croix Falls option is a co-operative pick up at the farm (people take turns).
We decide what goes in the box and there are no substitutions.
Payment for the season is due when you subscribe.
Our CSA
After decades of providing CSA options, we currently offer maximum flexibility.  Since we eat year round, we have responded to members who wrote on their evaluations, "I hate when your season ends because I have to go to the store."
We harvest 40 of the 52 weeks in a year.  You, as a CSA member, choose which of the harvests you would like a box.  You can get one or multiple boxes when you have a large family event.
Our focus is soil.  Ken has built soil for decades with an emphasis on organic matter, microbial life in the soil, trace minerals, and our compost.  He grows cover crops and green manure crops and mulches as he believes, "Naked soil is dying soil."
We do not practice "rescue chemistry."  We use no chemistry –organic or otherwise.  We would rather sacrifice one crop and learn what the problem with the soil is and make adjustments.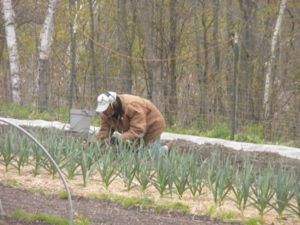 Our goal is to harvest as much as possible the same day it goes out. Greens, herbs, most root crops are all same day. Crops that require long harvest time like beans or digging potatoes are usually picked the day before.  Almost all of the produce can be on your table hours from the field.
If it is in your box we grew it on this farm.