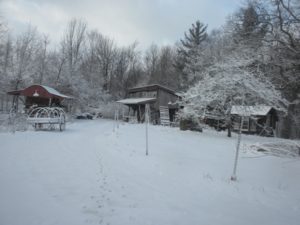 Greetings from the Garden!  This CSA box has onions, garlic, winter tomatoes, squash, the last of the sweet potatoes, winter kohlrabi, beets, and cabbage.
Field Notes.  We are glad to see the snow; it will act as an insulating blanket and slow the descent of the frost into the ground.  It also provides a check against erosion and will provide moisture to the soil.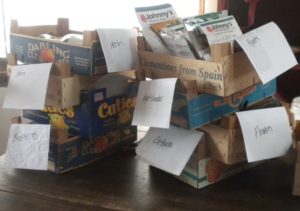 Seed inventory is done, and next we hit the seed catalogs.  Now is the time for us to assess the last growing season, and plan for the next one.  If you have feedback, now is the time.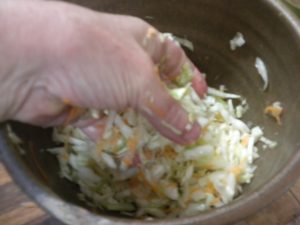 From the Kitchen.  Our wet August means the winter squash is not keeping as well as usual,  so I am cutting out blemishes and baking squash,  or making squash soup.
We are eating cooked cabbage – we like to fry a sliced onion, add the chopped cabbage, cook with a bit of stock and add either a vinaigrette r a cream or cheese sauce.  For Thanksgiving I made a cole slaw and was asked to bring it for Christmas!  Shred cabbage and add some salt rub the salt into the cabbage and set aside fr at least a half hour.  Shred or finely slice some onion, grate carrot if you choose, and this time I added chopped apples and raisins. My dressing had some dijon mustard, mayonnaise, yogurt, a splash of maple syrup, and some pepper.  Drain the liquid off the cabbage.  I use it in stock or any place I want salty water. Check cabbage for saltiness, and if it is too salty, rinse.  Then combine all the other ingredients and refrigerate – often better the next day.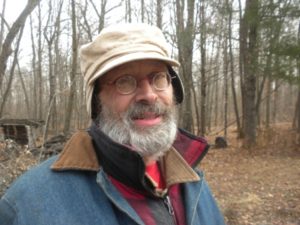 Happy Holidays from the Gang – see you next year!