Greetings from the Garden!  This week's CSA box has tomatoes, potatoes, cucumbers, zucchini, onions, basil, beans, carrots, and parsley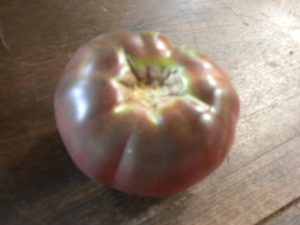 Field Notes.  Planting, mulching, and harvesting continue.  As the days shorten this becomes more of a juggling act!  Ken picks several crops like tomatoes, zucchini, cucumbers, etc several times a week; that takes a chunk of time.  He spent part of Sunday making next year's compost.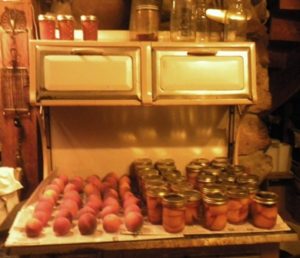 In the midst of all this I took part of a day off to visit a friend who has been ordering lugs of organic peaches.  Since stone fruit like peaches and cherries are crops that appear on the Environmental Working Group list of the Dirty Dozen with heavy pesticide residue, we tend to buy bulk and can and freeze for later use.  I often suggest people look at that Dirty dozen list and buy or raise those crops organically.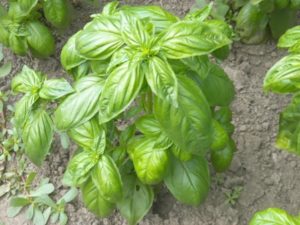 From the Kitchen.  Basil!  This summer favorite is great combined with tomatoes or with olive oil as pesto.  Ken often makes pesto and we add a thin layer of olive oil on the top of each freezer jar and the pesto retains its vibrant color and flavor – what a treat in the bleak midwinter!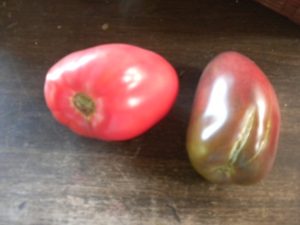 This year we have some lovely, meaty heart shaped tomatoes.  Consider cutting them in half lengthwise cutting core, and placing the cut side on a griddle when you cook eggs in the morning.  The tomato has a lovely cooked caramel flavor and a fresh flavor all at the same time.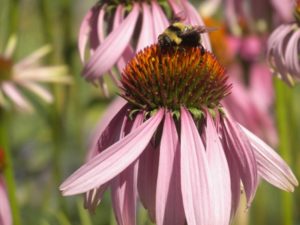 'Til Next Week, Judith and the Gang