Greetings from the Garden!  This week's CSA box has lettuce, spinach, salad greens, braising greens, radishes, green onions, asparagus, and herbs
Field Notes. Since we have had drier weather, Ken has been busier than ever!  Many things are behind the usual planting schedule.  He has been planting and transplanting: onions in the garden, greens in the garden and by the mobile tunnel, sweet potatoes in the field, replanting washed out carrot seed, watching the beans and getting to replant – it may have been just too wet and cold for them.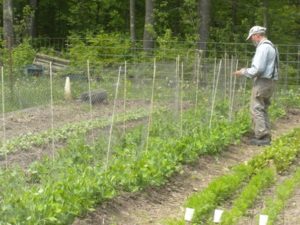 Sunday I helped with the pea fence.  Peas are a short season crop that do much better with a fence.  We use a combination of chicken wire and fiberglass poles with some twine for tying fences together and to the end posts.  I helped unroll and hold the fencing while Ken did the bulk of the work!
I have started to pick the strawberries.  With the rain we have some slugs and this year some wiry worms that burrow into the fruit.  The plants are covered with netting to reduce bird pecks.  Everyone likes strawberries; I hope the people get more than the pests!!!
From the Kitchen What an interesting spring.  With the cool damp mornings I have been lighting the cook stove much later into the season than usual.  This means more soups and stew – chili here and cream of asparagus soup there.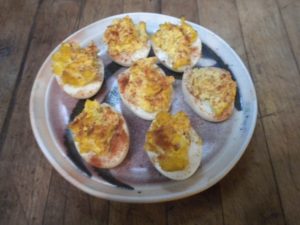 I made a spinach spread with green onions and cream cheese to top cornbread when I hosted my book group.  We also had deviled eggs – our homemade mayonnaise used egg yolks so I made some macaroons to go with some fruit sorbet from frozen fruit from last season.  And home made wine for some and iced mint, red clover and lemon balm tea for others.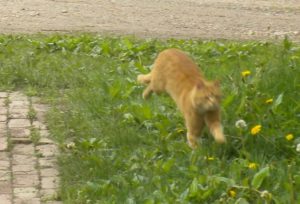 'Til Next Week, Judith and the Gang