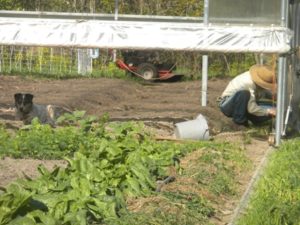 Greetings from the Garden!  This week's CSA box has asparagus, spinach, lettuce, salad mix, beet thins, salad turnips, green onions, potatoes, and herbs
Field Notes.  Ken got the poultry moved, the beds ready in the garden, planted there, and then got everything ready so I could help move the mobile high tunnel to its summer location.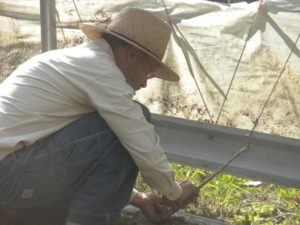 It was downhill and went smoothly.  Then he anchored it.  Next I will need to help with the cucumber fence in the garden.  Ken has the germination cabinet filled with the next round of seeds.  In the field he has uncovered strawberries and gotten areas ready to plant sweet potatoes.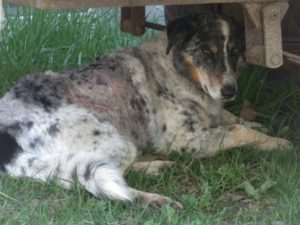 Oscar, an important team member, had stitches and staples removed Friday and he is happy to be back on duty.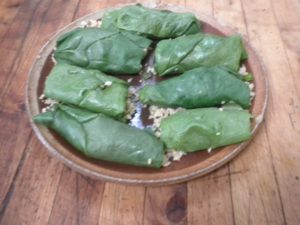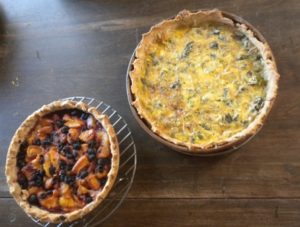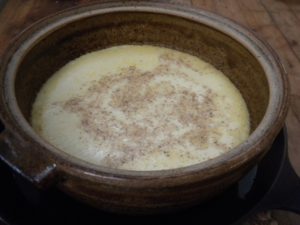 From the Kitchen.  Since we have big spinach leaves I have been trying spinach roll ups.  I have blanched and not blanched the spinach.  Both work.  I used a spicy filling with cooked bulgur and green onion, ripe peppers (from the freezer) and herbs.  At Ken's suggestion, I first layered a combo of mayo and mustard and ran a line at the edge to help seal the end.  I also tried a dipping sauce of my Asian dressing: tamari, olive and toasted sesame oils, Ken's vinegar, a bit of maple syrup, hot pepper, and toasted sesame seeds.  
Each time I trim and bunch asparagus, I set aside the twisted or topless or other culls.  This week I made an asparagus quiche.  It is working well as our "fast food"  when we are tackling a project and it takes me away from timely meal prep.  I always use more than half of the two crust recipe, so I then make something in a smaller quiche pan.  This time I pulled some fruit from the freezer for a pie.  I put the crust in the pan and cook at 400 for about 5 to 7 minutes for both the quiche and pie.  With the fruit I put some tapioca flour in the bottom and sprinkle the top with sugar. 
I also made custard and that was nice with the pie.  It is egg season!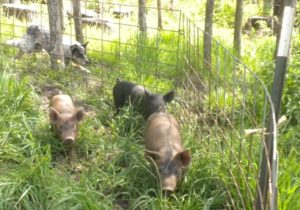 'Til Next Week, Judith and the Gang