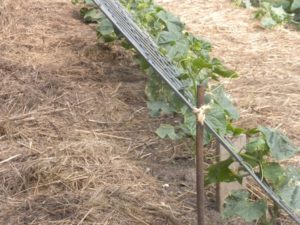 Greetings from the Garden!  This week's CSA box has salad and braising greens, garlic scapes, green onions, snap peas, beets or carrots, European turnips, herbs, the last of the asparagus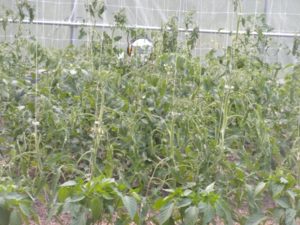 Field Notes.  Green manures and mulch.  Ken is juggling the usual sequential plantings of greens, tying up tomatoes, irrigating the greenhouses, cultivating with a push to get areas either planted with green manures or mulched.  Green manures are like living mulch – they lessen weed pressure, moderate soil temperature and add nutrients and organic matter to the soil.  In walkways and around other plants Ken mulches with leaves, straw or hay.  This year he is using some hay from a local farmer; the hay was rained on and cannot be used as animal feed.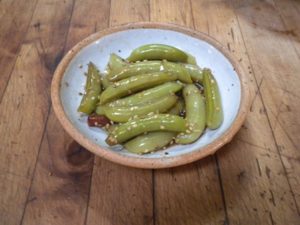 From the Kitchen.  The tsunami of snap peas has crested, so enjoy them!  Most crops are like a wave – a few at first, then more and then they taper off to less and less.  I do not see many new blossoms on the peas, so they are tapering down now.  This week I sent Ken off to a meeting with some blanched peas with a jar of Asian dressing of sesame oil, a bit toasted sesame oil, toasted sesame seeds, rice vinegar, maple syrup, tamari and miso.  Black or red pepper is nice, but one of the people has an allergy to both, so I left the out.  Mustard powder or wasabi would work if you want heat.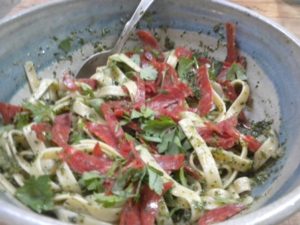 On Sunday night I made pasta with pesto – no, not with basil yet.  Pesto means paste and it can be any thing – Ken had made a pesto of parsley, dill, scapes, green onions, and olive oil.  After tossing the pasta with the pesto combined with some cream and grated cheese, I topped with chopped organic pepperoni and some surplus celery seedlings that did not get to the garden.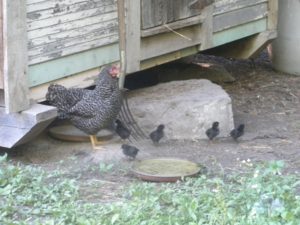 'Til Next Week, Judith and the Gang